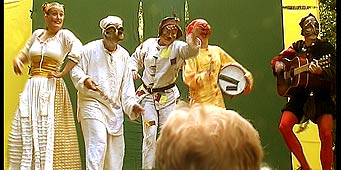 Click here to see a TRAILER from the show.
Pulcinella – Jimmie Jonasson
Arlecchino – Rebecca Westholm
Zanni – Jennifer Sternberg
Pantalone – Tobias Hylander
Isabella – Erika Petersson
Director – Micke Klingvall
Script – Micke Klingvall
Music – Ars Ultima
Costume – Irené Westholm
Masks – The Ensemble
Staqe – Kjell Pettersson
Layout – Daniel Ringdahl
"Allting på…?" was the conclusion in the three-stage rocket in the cooperation with theatre Teatropen. This performance was also the one where I left the actors most alone both when it comes to writing the script and in the directing. Instead I focused on the actors and their improvisations and whims. The name itself, "Allting på…?" (or "Everything on…?), was set long before we knew what the performance was about.
This was also the performance were we have worked the most advanced acrobatics. It falls natural since the actors by then had been training acrobatics continuously for three years in a row.
The opening was 9 July 2004 at Bottarvegården on the south of Gotland where "Allting på…?" played a month before it went on tour around
Sweden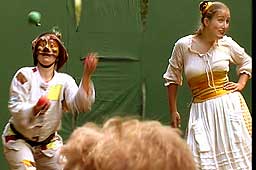 "Alltingpå…?" is about Zanni and Pulcinella who are thieves and comes to steal, but instead Pulcinella happen to buy Arlecchino, the servant of Pantalone, since Pantalone wants to have Smeraldina, who also work in his house, for himself. Arlecchino is having a relationship with Smeraldina. But Zanni gets jealous and he doesn't want to have anything to do with Arlecchino since Arlecchino is a better thief than Zanni. For example he steals money from Pantalone so Smeraldina can buy Arlecchino back.