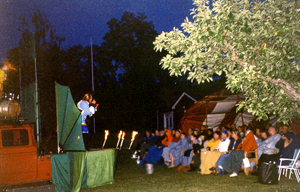 Commedia dell'Arte is commercial by nature. One of the earliest names on Commedia dell'Arte was Commedia Merceraria (One of the many early names it has). The troupes played it in order to make money as any profession would. Commedia dell'Arte was born long before the romantic era with its idea about "the artist" as someone who don't need prosaic things like respect, food or money as long as he could practice his art. This hypocritical view on the artist is still more or less reign.
So please let us see Commedia dell'Arte for what it is: a very practical art form with actors that not only want to survive, but also live well.
In practice this means that we have to use the idea, especially when playing in the street. If we want to earn any money at all we have to take that in consideration already when we prepare a show. It is not enough to just put a hat or a box in front of the stage for people to give money in. We must also find ways to remind the audience of the hat. It is not of greediness people don't give. They might forget about it, they are sometimes too involved in the show itself or they are too shy to get up in front of the audience to give their contribution.
If the show is not bought by a festival or similar we will have to go "hat in hand". That raises lots of questions: When in the show is it most effective? Can we make it to an integrated part of the show? Should it be done after the show, or even before? Is it possible for an actor or a mask to walk around in the audience during the show? Can that be part of the show?
Continue to Part 2