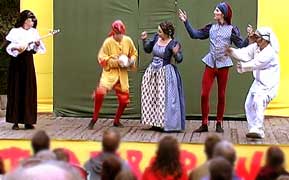 Click here to see a TRAILER from the show.
Pulcinella – Jimmie Jonasson
Florindo – Mattias Lindbladh
Arlecchino & Petunia – Rebecca Westholm
Zanni – Jennifer Sternberg
Pantalone – Mattias Lindbladh
Dottore – Camilla C Vislie
Director – Micke Klingvall
Script – Micke Klingvall
Music – Marlene Lundberg
Costume – Irené Westholm
Masks – The Ensemble
Stage – Kjell Pettersson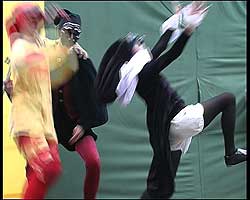 Step two in the Commedia dell'Arte cooperation with theatre Teatropen was named "Det allra Löjligaste", or – in English – The Most Ridiculous. The performance was a development of the work in "Morens fånge". It contained more or less the same disciplines, but one year of experience of touring a children's theatre and acrobatics and music lessons for the actors allowed considerable greater possibilities to go further.
"Det allra Löjligaste" opened in July 2003, in Helge Ands ruin in Visby, before the show went on tour in the south of Sweden. It played 41 performances altogether in two months, where a lot of people came back to se also this
performance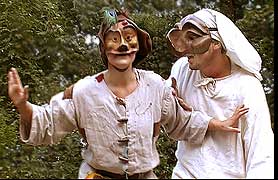 "Det allra Löjligaste" is about Pantalones attempt to get his daughter Petunia married with her suitor Dottore. Petunia on the other hand wants nothing more than to marry Florindo, who she just has met. But also Pulcinella is in love with Petunia, a love he believes to be answered. Pulcinella goes to Dottore in order to learn good manners, so he will be able to propose to her. Just about then Pantalone looses his memory and his servant Zanni takes the command. At the same time Pulcinella coax Arlecchino to steal wine and cognac from Pantalone. And after the final fencing scene between Zanni and Pulcinella Petunia let Dottore and Pulcinella compete over her, before the happy end.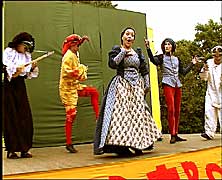 As with the rehearsals of "Morens Fånge" the rehearsals of "Det allra Löjligaste" started at Salong Katakomb in the spring and finished in Stånga, in Gotland. The script was written completely by me this time. This is also when I started using video as a tool in my writing.