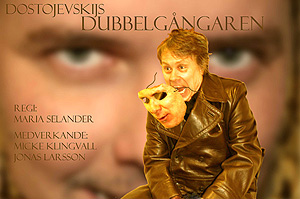 Actors:
Jonas Larsson
Micke Klingvall
Director's eye:
Maria Selander
Play write:
Micke Klingvall
Study:
Lars Engström
Scenography:
Conny Andersson
Costume:
Nanna Clason
Producer:
Anette Bodinger
Printed matter:
Stephan Svensson
Click HERE to see a trailer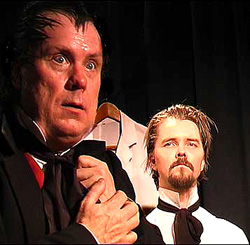 In the play – a psychological thriller – the main character meets his double, something that step by step drives him far beyond the limits of madness…
We meet mister Golyadkin, a grey lonely public servant in his midcareer. We are following him – though his own eyes – in to his madness. He runs unexpectedly into his double after being completely humiliated at a magnificent party. His double drives him slowly right into mental illness. …or is the double just a projection?
The play is asking questions about the limits of reality, what is healthy or not, how far egoism and dreams of success can drive a man.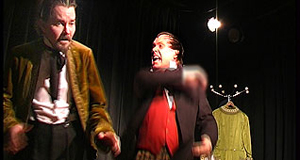 It is a strong, naked performance where the two actors are playing all characters. It is played intimate, in full speed and with great intense. The audience is never allowed to lean back to contemplate the action from outside. Instead they are following Golyadkin's journey – right in to the mania.
The performance is based on Fyodor Dostoyevsky's second novel "the Double" from 1846. This was the novel that he himself thought about as his premier work. It was never a success in its contemporary period, probably since it was way too early with modern psychology.
This is the first time the novel has been dramatized and played in Sweden.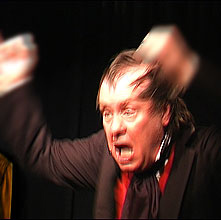 The Story about the show
The story about Dostoyevsky's THE DOUBLE started when a was ill. It was there in a fever that I first read the book. I was completely swallowed up by its ambiguities, the disbandment of reality and its mysterious atmosphere. The idea about a novel that was written as a classical tragedy, but where we never know what exists or not and where we follow the hero both from outside and inside at the same time was what enticed me.
I realized that I had to do theatre of the book. Said and done, I read a lot of different translations and started writing my first draft to a script.
A few years later it was ready and I contacted Jonas Larsson who liked the idea. We started to read the script; it was three and a half hour long. We cut out and red it again and rewrote and terrorized our friends with readings…
Finally we had a fairly understandable and not too long script. That was the time we met up with Lars Engström. Together with him we went through a few more tussles with the script.
At last it was time to get up on the floor and start the real rehearsals. We had contacted Maria Selander and she joined the project as a director's eye. The work with the show has been going on as a collective process where ideas and visions came from all directions.