by Selma Lagerlöf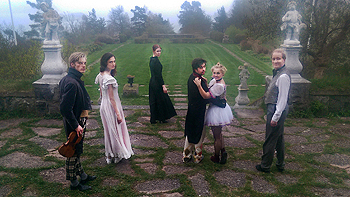 Herr Blomgren – Per Mollan
Fru Blomgren – Yosefin Buohler
Gunnar Hede – Axel Boberg
Ingrid – Manuela Bjelke
The Priest's wife, The owneress at Munkhyttan– Malin Andresson
Gustav Åhlin, Pigan, The Angel, Lady Grief, Karin Landeberg – Mårten Gunnarsson
Music – the group
Music studies – Affie Andersson
Directions – Micke Klingvall
Click here to watch a trailer from EN HERRGÅRDSSÄGEN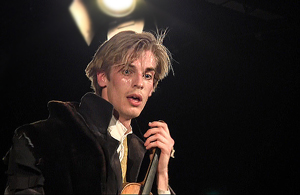 We opened the play in 17 April 2015, as a final production for Kulturama's second year students in Physical Theatre that year. The performance played for three shows at Kulturama in Hammarby Sjöstad, Stockholm, and then it toured Trondheim and Oslo regions of Norway and Ålsta folkhögskola in Medelpad and the south of Sweden.
The play, from 1899, is about love, madness and music, and what grief and longing can do to us.
The plot is in short about a rich, young student who wants to save his inherited manor and goes out to as a wandering peddler to yearn money, but instead he becomes mad when all his goats die in a snowstorm. We can also follow a young girl from being part of a small traveling family of jesters to become taken in to a priest's family where she becomes apparent dead and escapes to the manor and the caretaking mother of the, now mad, student. Eventually she understands that the mad son is the student she loves and he gets finally cured by music and her love and finally by her anger.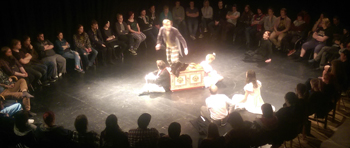 It is very melodramatic and "magical fairytale" might be a better expression for the style. We chose to have the setting in "the right time", about 1850, but with a very small scenography using the audience of the arena stage as a background. The only thing on stage was a chest with the clothes for changing into other characters.
En Herrgårdssägen was played in an expressive style, using much music in songs, as background, for sound effects. All actors were on stage all the time.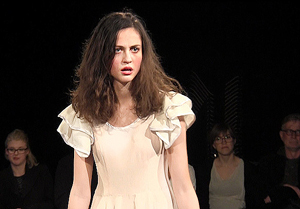 See a few other of Micke's shows:
Svejk i Andra Världskriget (Schweik in the Second World War)
Gamla Testamentet The Old Testament)
Twine, measure, cut