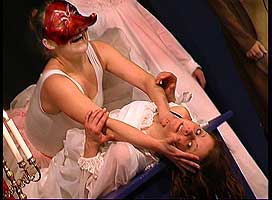 This is a show I made with the secon year students at the Theatre studio in 2006.
Click here to see a TRAILER from the show.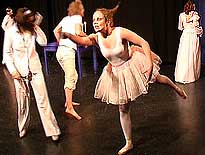 When I went up to the north of Sweden to work for a month, I got an assignment from the class to make a show about death, hell and with evil clowns when I came back. It became another collage performance, this time based on "A Dream play" by Stringberg, but this time the descent goes on level further – to hell. Other text are from "The Sermon on the Mount", "Master and Margarita" by Bulgakov, our own dreams and nightmares , "No exit" by Sartre and a lot of other plays and a poetry by Pär Lagerkvist. We also saw "The Andalusian Dog" by Bunuel an immense number of times for inspiration.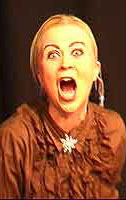 We worked to find the performance through as strong physical expressions as possible. Every movement, every sound, every breath was played to its extreme. Thereafter we added text and plots and and put the expressions in its context. The different pieces were together, the chorus got its place in each scene and songs and dances were rehearsed.