On the whole I don't think the masks have influenced the feeling for space so much in my performances as it has with the sense of time. In my opinion the masks always change the sense of time. I see the sense of changed time as one of the most important reasons to use mask.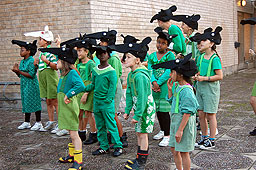 The chorus of white neutral masks in Svarta Döden (The Black Death) slows down the tempo of the performance while the opposite happens with the masks in Commedia dell'Arte shows.
The change in sense of time is much of what we think of when we talk about the elevation in play that the use of mask give. Most of the time it is something we don't think of that much. It is a consequence of how the body is used in a mask. The Commedia dell'Arte masks can move fast with large gestures, the larval masks may move in some sort of plasma but still large while the neutral mask usually move slow but not extremely big just to mention a few examples.
Still all masks must, in their own way, move from the guts to move organic. That also changes the sense of time for the masks when it forces the masks to use another movement dynamics, not necessarily a slower time though.