Here is a little more about Opera and Commedia dell'Arte after THIS:
It is always a pleasure to work with opera singers when working with Commedia dell'Arte or just when working with theatre in general. I think it has to do with the singing. They already have a discipline that they must master on stage except from just acting. It gives them a very concrete and solid base. It is measurable. Either you sing in key or out of key. There is no place to "feel" what is right or to discuss if one should re-tune the orchestra instead of singing higher or lower. It is simply not relative just as it is with laughter (see HERE). Either the audience laughs or they don't. If they don't it simply is not funny enough. When it comes to tragedies and intellectual theatre often we find audiences that didn't feel a thing, but still they are trying to "figure out " the play they just have seen. They think it is their own fault that they are not clever enough for the play. That doesn't happen in a comedy where no one laughs or an opera where the singers sing out of key.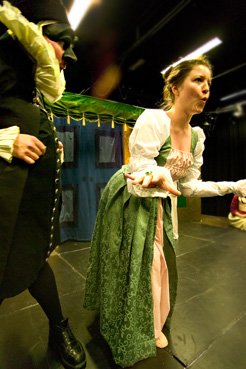 Another thing with actors that own a discipline, it can very well be acrobats, dancers or puppeteers as well, is that they tend to work more directly for their audiences. At least that is my experience. They seldom see the rehearsal process a goal in itself as I sometimes can see or hear from other actors. I don't know how many interviews I have read with famous actors saying what they like about acting have to do with learning about oneself or experimenting with their limits. I just can see that as valid for an professional actor. That kind of attitude belongs for amateurs that just play theatre fir their own fun or as therapy and that has nothing to do with theatre.