Click here to see a TRAILER from the show.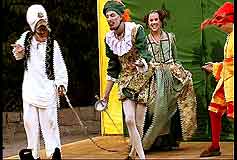 Pulcinella – Jimmie Jonasson
Leandro – Rasmus Wurm
Arlecchino – Rebecca Westholm
Zanni & Signora – Jennifer Sternberg
Pantalone – Mattias Lindbladh
Isabella – Malin Widén
Director – Micke Klingvall
Script – Micke Klingvall & Mattias Lindbladh
Music – Joakim Dominique
Costume – Irené Westholm
Masks – The Ensemble
Stage – Kjell Pettersson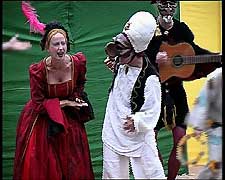 "Morens Fånge", was step one in a three year cooperation between me and Theater Teatropen, it played as an out door performance in an early Commedia dell'Arte style full of jesting, acrobatics, improvisation, music, fencing and pranks. It opened in July 2002 in Helge Ands ruin in Visby and continued with a two month tour in the south of Sweden.
Pantalones and Signora's daughter Isabella has been taken prisoner by the moor, Pulcinella and his servant Zanni. Leandro, Isabella's lover and the by Pantalone hated one, goes frantic from despair and goes to find the moor. The moor in his turn tries to sell back Isabella to Pantalone, who doesn't want to pay. Instead Pantalone sends his servant, Arlecchino, to fetch Isabella, while Signora tries to seduce Leandro. And so it goes on until the happy ending.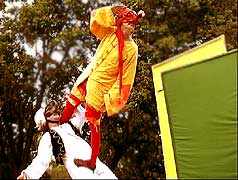 The performance was first rehearsed in the spring in Stockholm at Salong Katakomb, later to be rehearsed in the summer in Stånga, in Gotland.
The writing of the script and the rehearsals went hand in hand. The scenario to the show was first written by Mattias Lindbladh and adapted by me. Then the material has been rehearsed and put together by me together with the actors. This has in its turn been the basis when I wrote the lines and songs.