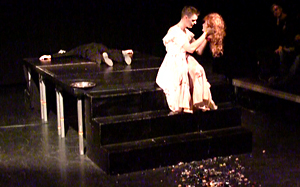 Text – Oscar Wilde
Directions and education – Micke Klingvall
Josefin Glaadh – The young Syrian & Solider
Angelica Jana Prodromou – The Page
Kajsa Sparefors – First solider & Herodes
Erika Gustafsson – John the Baptist
Christoffer From – Salome
Oskar Webrell – Herodias
Voice – Affie Andersson
Scenography help – Cisse Jacobsson
Click here to see a trailer of Salome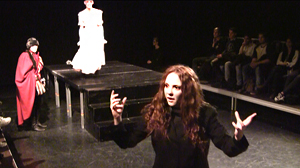 Salome was the first student production from the second year students in Physical Theatre at Kulturama in 2013 -2014. It was played 29 &30 /11-2013 in Hammarby Sjöstad, Stockholm.
The play was an adapted version of Oscar Wildes original – the classic story from the Bible about how Herodes gets Salome to dance for him and how she demands John the Baptist's head on a silver plate to do so.
The production was played outside time, with John the Baptist as a preacher, Herodes as a medieval king, Salome as a nineteen century noble, the soldiers as a mix of something from ancient roman and Second World War soldiers. It was an experimental, gender crossing performance in a very suggestive form.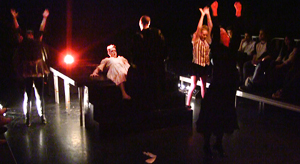 With the production we wanted to explore insanity, gender and power structures. The religious part of the play is so strong in itself that we chose to not focus on it, in favor of a psychological interpretation. In that way the religious content became a much more understandable in spite of its insanity.
We started out from the idea that everyone was more or less mad. It was not very hard, following their actions and desires. Then we had their insanity bloom out fully and contrast each other and take physical form. It led to a very intense performance.
We also chose to mix up gender, where the man played the female roles and vice versa. But we did not act the sexes, meaning we did not make male or female characters. In that way the audiences were able to decide for themselves if, or when in the play, they saw for example a man seducing a woman or the other way around.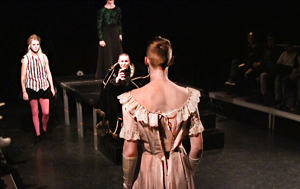 The whole play is really about sex and powers whatever interpretation one choses to work religious or not. In our intense version it became strongly focused. The misuse of power and sex in a mad world where everything is screwed up to a maximum of wants and needs, accentuated by the use of a strong physical expression creates a quite uncomfortable, but exiting experience for both actors and onlookers. 
See a few of Micke's other shows:
Gudomliga Ord (Divine words)
Kattorna (The Cats)
Den Fredlöse (The Outlaw)