This is also from when I was asked about my work with masks from different aspects a few years ago for a scientific work by Thanos Vovolis at the Stockholm Academy of Dramatic Arts. I thought that I might as well share a bit of the answers here…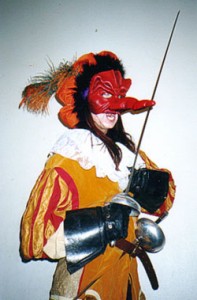 As said before in Mask making, I do lead the mask making process most of the time. The few times I don't I keep a close eye over the process. It is hard give that responsibility to someone else since I am so used to be in the middle of it. The mask design is crucial to the vision of what a show will look like, in style, in color scale, technique of painting, the size of the details and the mask itself.
It is important that the masks play in the same world both aesthetic and functional, since the aesthetic and the functional play in the same game. A big or a small mask, a long or a short nose, a dull or an energetic color – all of that changes how the actors move their bodies.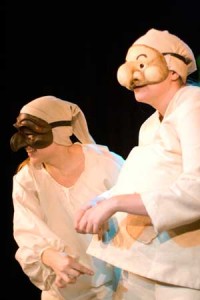 Except from in Commedia dell'Arte, where the masks have their traditional costume and the stages are traditional as well, I don't change the costume and stage very much because of the masks.
Usually I am very fond of solutions where the audience can see each other. When it comes to Commedia dell'Arte it is not possible. The constant dialog with the audience is too central and it demands that the actors have the audience in one direction.
It is equally important to have the audience in one place since the mask doesn't allow more than one direction of the focus at one time. Its expression is usually seen more or less just strait forward and therefore has to be articulated to the audience.
I like most masks also to be on an elevated platform. That gives them a stronger position and more authority. It also helps the audience to feel that they are in and taking part of the world of the masks.