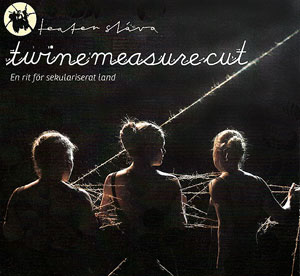 Director – Micke Klingvall
Actor – Maria af Klintberg
Actor – Viktoria Siwek
Actor – Elin Tisell
Musik study – Britt Ronström and Sonya Georgieva
Scenography and light – Daniel Rudholm
Scenoghapy build – Nisse Meseke
Light technician – Lars Brinck
Producer – Sonja Braska
Click here to see a VIDEOTRAILER
or
THE WHOLE  PERFORMANCE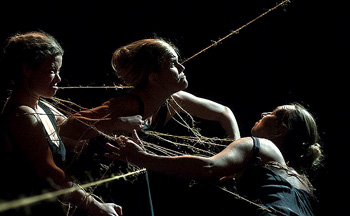 Twine – Measure – Cut opened the 4:th of May 2013 and played also the 16 -18 of May. It will continue touring in 2014. The reason it never played longer is that one of the actors where pregnant and we would rather wait awhile then risk her health.
It is my third collaboration with TEATER SLÀVA. See EVIGA BERG and RÅTTFÅNGAREN I VÅRBY GÅRD and I am very happy to work with them.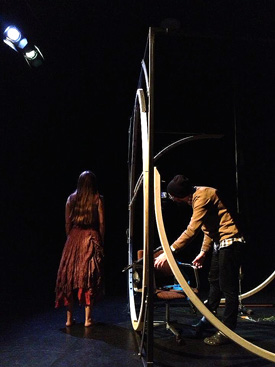 The performance is the most abstract performance I ever have directed. The day before opening I told the actors the plot of the play, but I was very concerned that it was just my plot I told. There was no way to tell an exact plot that everyone, including the audience, could agree on. Here the art is in the eye of the beholder. The show is as much a rite as it is theatre.
We have built the performance around the three norns that was, according to Norse mythology, sitting under the tree of life and twining, measuring and cutting the human's threads of life and what happens when the humans revolting to that order.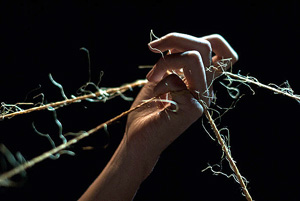 The language in the songs is Bulgarian and in the talking parts it is Old Norse. Twine – Measure – Cut is built very much on its songs. We used the songs; from wish we don't know any words in the text, to build a sort of emotional plot. During rehearsals it slowly took form and became more precise.