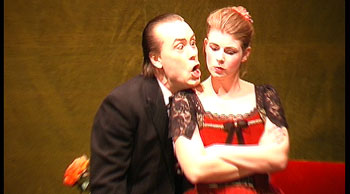 I started my career in theatre as an actor after I had quit the Theatrestudio. I never played very much myself, but there has been a few shows…
Among other things I was one of the founders of the Studio Ensemble. Where I also was an actor. The studio Ensemble was founded by us who left the Theatrestudio in 1987, after we were invited to play our final show at the theatre festival in Avignon.
With the Studio Ensemble I organized our first tour. It was an interchange with a Soviet theatre group "Teatr Tembr", in 1989. I organized a couple of performances for them here in Stockholm and in Waxholm and we were one month in Moscow and in Pereslavl-Zalessky, where we played, trained and partied together.
Naturally I also have worked with a few other theatres and other theatre groups.
And now it seems like I entered the stage once more after all those years. So let's see what will come out of it.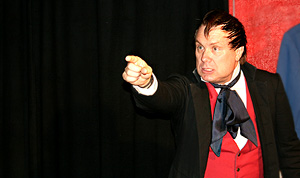 Performances played with the STUDIO ENSEMBLE:
– 1987 Bödeln (the Hangman), by Pär Lagerkvist – a performance about the worship of violence, played in mask and greater parts with choreographed acrobatics.
– 1988 Requiem för Ansikten (Requiem for Faces), by the ensemble – a dark performance about Hiroshima and death itself, with inspiration from Artaud.
– 1988 Stacken (the Anthill), a Commedia dell'Arte-performance by the ensemble about immigration.
– 1989 Ett Drömspel (a Dreamplay), by August Strindberg – an experimental version of the play, with only four actors.
– 1991 -1992 Var är Toaletten? (Where is the Toilet) , A Performance built on (among others) Gregory Corso's poem "Marriage".
Other performances:
– 1989 Till Myrene (to Myrene), by the ensemble – a cabaret – with Theatre Myrene.
– 1988 Rigoletto, by Verdi, at the Royal Opera in Stockholm.
– 1993 En dam på besök (Visit of an Old Lady), by Friedrich Dürrenmatt, at Stockholms Stadsteater.
– 1996 Den Elektriska Pudeln (The Electric Poodle), Dadaistic texts dramatized by Lena Lövdahl, played at Kilen, the Culture house in Stockholm.
– 2004 Grand Guignol – i afton skräck och skratt (Grand Guignol – tonight terror and laughter), 3 little performances by Maurice Level, Georges Courterline and André de Lorde, played at Kilen, the Culture house in Stockholm, directed by Michael Fields.
– 2008 Dostoyevsky's THE DOUBLE It is based on Fyodor Dostoyevsky's novel with the same name and it is the first time it has been dramatized and played in Sweden. The performance has been played 9 times at Pygméteatern so far, but it is meant to be in the repertoire for a long time.
– 2012 Silverpilen (The Silver Pile) This is a horror show about an abandon subway station and a subway train that used to run in Stockholm. It was played in a real subway car in the Stockholm Transport Museum. The show I directed by Jonas Larson and I play the villain, a conductor from hell…