Opened 13/9-1996
Script and Directing – Micke Klingvall
Pantalone, Oratio(until.13/9-96) – Johan Starck-Stormdal
Isabella – Anna Svensson
Columbina – Micaela Gustafsson
Arlecchino, Flaminia – Ulrika Carlsson
Capitano, Coviello, Dottore – Mikke Schirén
Oratio (from 10/10-96) – Elias Wåhlund
Fencing master – Lena Lövdahl
Costume – Anna Svensson, Helene Bring-Stormdal
Masks – Micke Klingvall
Set design – Micaela Gustafsson
Layout – Jens Jonsson, Micke Jakobsson
Photograph – Jonas Fernvik, Micke Gustavsson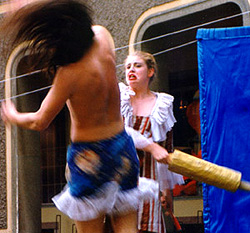 "Oratio på Pottan" was a classical Commedia dell´Arte performance, with its roots in the Italian Renaissance. The plot was built in a simple love story, which in real Commedia dell´Arte style leads to misunderstandings and complications, with elements of robbery, fights, swaggering, sexual harassment and other things that makes life worth living.
When I wrote "Oratio på Pottan", I started from two sixteenth century scenarios, strait acrobatics scenes and improvisations. The noble characters in the performance were talking in verse and "Oratio på Pottan" contained much music, happy pranks and colour ful characters all in a good tempo.
"Oratio på Pottan" was Kompani Komedis first production. It opened 15/2-96 at Salong Katakomb. One of the fundamental ideas when Kompani Komedi first performed was that the audience must not be stuck in a going-to-the-theatre-feeling. Instead we wanted to create a great party. The performance was three acts long, and included appearances by guest artists. We served beer and wine and the audience were sitting around tables, and we tried in everyway to create the atmosphere of a party.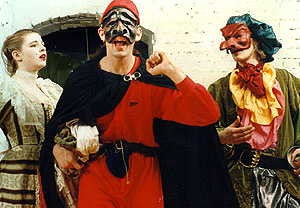 After the period at Salong Katakomb, "Oratio på Pottan" has been played in a lot of different versions and places. We played a one-act version in the Old Town of Stockholm, a short version for the Stockholm Water Festival and around in Stockholm, and an indoor-versions that toured around Sweden before "Oratio på Pottan" at last reached its final two-act version. In the fall of 1996, a new actor, Elias Wåhlund, was introduced in the show. Elias took the part of Oratio after Johan Starck-Stormdal, who up till then had doubled as both Pantalone and Oratio.
Through the time that we have played the performance it has had time to develop a great deal. It has been very well received by audiences and the media.
During 1996 "Oratio på Pottan" were played 69 times for about 7000 persons all over Sweden.