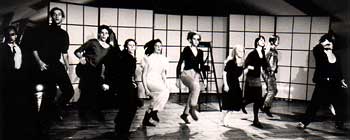 I was one of the founding members of the Studio Ensemble in 1987, and I was one of the few who were still left in the end. I was in five performances as an actor and I organized a tour to the Soviet Union and a few special performances.
The ensemble was created as a free theatre group by us who left the Theatrestudio that year, after we had been playing our final production The Hangman at the theatre festival in Avignon. As soon as we came home from Avignon the whole group went to Falun (in the country) for a training week and to form the group. We also got the space that later became our theatre "Salong Katakomb" after a lot of renovations and extensions.
We made performances like REQUIEM FOR FACES – a devising project long before the term was used in theatre, STACKEN – a Commedia dell'Arte show, August Stringberg's A DREAM PLAY and a collage play called VAR ÄR TOALETTEN.
In the beginning we thought that the group would be tied tightly to the Theatrestudio, but pretty soon it became an entirely independent, self-governed theatre group under the guidance of Lars-Åke Kastling. The only straight connection that was left to the Theatrestudio was that many of us started to work there at regular basis.
And after Lars-Åke left the Studio Ensemble in 1990 the group started to function more as a forum for physical theatre, where each member ran their own projects. We also rented out the theatre to groups that we found interesting, arranged workshops and cooperation between groups. The number of members varied from three as the least up to 17 persons.