The first time we hear about Confidenti is from 1574, during a tour in Cremona, Pavia and Milan. That part of northern Italy was their primary tour territory.
Between 1570 and 1580 they were more or less tied to the Duke of Mantua.
In the spring of 1581 they played at the wedding between Vicenzo Gonzaga and Margareta Farnese in Bologna and in Mantua.
1583 it seems like the company has split up or divided for some time. Two companies under the name Confidenti are playing at the same time, in Mantua and Genoa. The first company that played Mantua may have had a temporary cooperation with Uniti. In any case they called themselves "Uniti Confideti".
The next year, 1584, the company was united again. They toured Milan and Turin and further to France, where they stayed until, at least, 1585.
1587, father and son, Drusiano and Tristano Martinelli became leaders for the group. The tour Spain for at least one year.
In 1590 Vittoria Piissimi are leader for the company during an Italian tour. I Mantua they play Vittorias dash performance La Zingana.
Tristano Martienelli publishes Compositons de Rhetorique in 1561.
The next time we meet them is in 1612 when Cosimo II de' Medici take them in service. It seems Flaminio Scala were their leader and that the company was relatively solidly intact during that time.
At least until 1620 when he tried to leave the company due to internal opposition. In a letter from 1620 Giovanni de' Medici writes and complains:
"My dear Sir, the Lelij, the Florinde, the Flamminie, the Frittelini and the Arlecchini, are all famous and celebrated as people eager and ambitious for power and control. These other poor players, accustomed to fraternal associations among themselves, would never submit to a peaceful and quiet subservience. The former, however, could never be weaned from their wish to dominate and give orders, for they are too accustomed to so doing, and have been doing so for too long a time."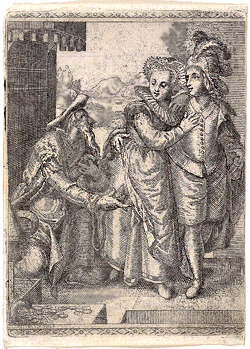 1615 they play in Bologna, according to a letter of recommendation saying they were the best and the most booked company touring there at the time.
1616 they played Lucca.
1618 they played Venice.
In 1621 Domenico Bruni publish his book Prologhi.
In 1623 Domenico Bruni publish his book Fatiche Comiche.
1639 they play in Milan and travel to France on an invitation from Louis XIII, but there is not much written about that visit.
See also:
Women in Commedia dell'Arte
The Official Theatre
Boioioioioing!!!