So this is the part of the blog that is more like a normal blog, with more of a day-to-day-info. You know, telling you all about what is happening in my life. And it is not planned have anything to do about Vulgar Comedy or Commedia dell'Arte, sometimes not even theatre.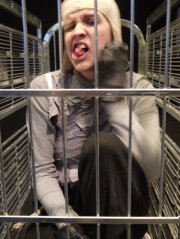 So, to start with: I am right now entering some really fun part in the rehearsals of Gudomliga Ord (Divine Words, or Divinas Palabras in original) by nobelprize winner Don Ramon Maria Valle-Inclan.
We played it through for the first time a couple of days ago and now it is getting obvious what has to be done. That always feels nice, sort of fooling myself in to thinking I have reached some sort of control, fully knowing that there will pop up lots of crazy ideas just to ruin that comfortable feeling.
Well, to be serious it is not just crazy ideas . The more we work on the play the more I get to understand what it really is about. I work very intuitive. From the beginning I just have a gut feeling of the play. After deciding on how the scenery is going to be – that is how the audience are going to sit in relation to the action (In this case they sit as in a catholic or protestant church, with an altar in front and wide lanes in the middle like a cross.) – we just starts working on the floor.
Here the actors are telling their stories from what the gathered from the text. And this is where I start to listen to the real meaning of the play. I don't want to do the authors play in the sense that I want to make a play that is ready and done with the authors words and our job would be only to give it body. In that case it is better to read the play filling it out with the readers own imagination. Instead my aim is to contribute to the play from another angle, telling the story or meaning of the play by the actors movements and actions. That is one definition of Physical Theatre.