Opening 10/6-1997 and Reopening 6/6-1998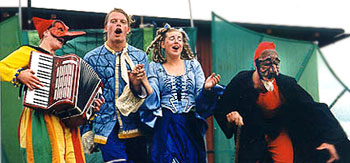 Playwright and Director – Micke Klingvall
Capitano Catastrofo Collosalle, Löjlo, Dottore – Mikke Schirén
Zanni – Micaela Gustafsson
Pantalone – Elias Wåhlund
Lejla, Tartaglia – Anna Svensson
Costume – Ulrika Ahlmyr
Costume assistants – Caroline Hoffman, Madeleine Kjällman, Andreas Marcus
Masks – Micke Klingvall
Props – Oskar Cristiansen
Music – Ellen Pontara
Photographer – Jonas Fernvik
Poster – Micke Jakobsson
Production – Sabina Kuutti, Sophie Hellsing
Click here to see a TRAILER from the show.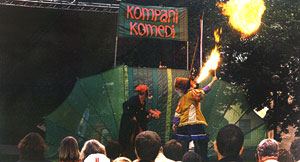 AAARRGH!!! – Capitano Catastrofo Collosalle was Kompani Komedi's second show. It was a spectacular street performance in early Commedia dell´Arte-style, with singing, music, acrobatics, fire, juggling, stilts and a very physical style of playing. The show was played on the platform of a VW pickup truck.
AAARRGH!!! – Capitano Catastrofo Collosalle was, from the beginning, planned to be Kompani Komedi's first international show. Even before the rehearsals, we were invited to play in Italy and we knew we wanted to play in Bosnia. So the idea to play the performance in grammelot (onomatopoetic make up-language) became a necessity.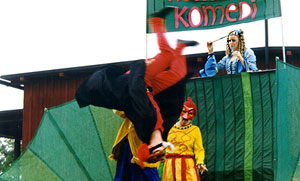 AAARRGH!!! – Capitano Catastrofo Collosalle was totally international: it was all about broadly human phenomena, such as greed, assault and battery, snobbery, ridiculous and impossible love, robbery and boasting.
The play, which is written by me, is based on improvisations and a few simple canovacci. We had chosen an early form of Commedia dell´Arte, (a more physical and less literary form, but also a form that is closer to jesting and play with disciplines), but with a much more modern attitude. It is also the form most suitable for street theatre.
To have AAARRGH!!! – Capitano Catastrofo Collosalle played on the platform of a pickup truck was an old dream that I had hoped to realize for a long time. It was about going back to the old conditions of Commedia dell´Arte, when the Commedia dell´Arte companies had to travel, play, sleep and live together under reduced circumstances, when one had to play to survive and when life and art became one. It was not only because of the romantic flavor in the dream, but also to understand how those conditions relate to performances and style of playing.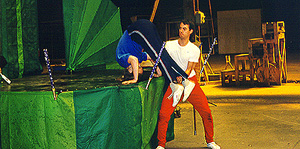 AAARRGH!!!- Capitano Catastrofo Collosalle was rehearsed in Salong Katakomb, in the early spring of 1997. As "commission for a consultant" we asked Nola Rae from England to help us, at an early stage. She helped us to get started with the work.
During the rehearsal period we underwent acrobatic training at G.I.H. and music lessons with Ellen Pontara on a regular basis. Other disciplines such as stilt walking and juggling were also trained, as we searched for an early tradition of Commedia dell´Arte where jesting was a great part of the performances.
To the summer of 1998 it was time for AAARRGH!!2 – Capitano Catastrofo Collosalle. That was a new version of the show, changed after our experiences from the tour of 1997. It was rehearsed to be a "bigger" show, with the addition of more different disciplines, "audience-work" and music. We also acquired new costumes and props, and Mozart got a whole new stage design.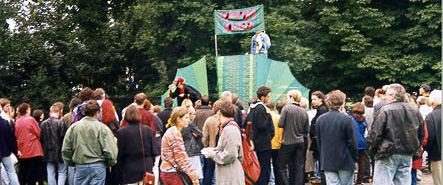 AAARRGH!!2 – Capitano Catastrofo Collosalle opened 6/6-98, outside the Sofia Church on the south side in Stockholm. This performance was only out on a very short European tour. The thought was to have a nice and relaxed summer, with only a few gigs here and there. Well that didn't happen. Bookings rolled in and we had a massive tour in Sweden instead, which ended with a big party-gig at the Ethnographic museum, that was very successful.
AAARRGH!!2 – Capitano Catastrofo Collosalle was played only as an outdoor-version, since Mozart, our VW-pick up, now was worked in as a part in the performance. We played at festivals, opening ceremonies, the streets, parties, and anyplace where it was possible to park Mozart.