Opened 14/4-2011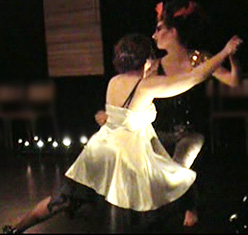 Diretor – Micke Klingvall
Valgerd – Michelle Nordlander
Gunlöd – Anna Mamolo
Gunnar, The Messenger, The Slave – Hanna Ek
Orm – Tulle Montserrat
Thorfinn –  Simon Tunna Hagström
Text – August Strindberg
Music – Anna Mamolo & Simon Tunna Hagström
Choreography – Kattis Wöllner
Costume & props – Gruppen
Scenography – Micke Klingvall
Click here to see a VIDEOTRAILER
Den Fredlöse was the final production of  the students from Kulturama's second year education in physical theatre. It opened 14 april 2011. The performance was played in the house of Kulturama in Hammarby Sjöstad, Stockholm.
The play is one of August Strindberg's early works. It takes place in Iceland in the beginning of the twelfth Century, just around the time for Iceland got Christianized. Thorfinn returns home after an unsuccessful rampage. He refuses to abandon his Aesir faith and meet the new world and its values. It all ends in a fight where the house and the whole family get burned down.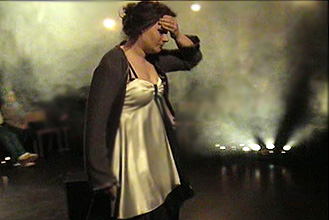 Den Fredlöse discusses themes as power, honor, religion, uproar hybris, forbidden love and the lapse of time. Our production is mostly focused on family relations, seclusion and the love theme.
The show is played in a closed room about 7 x 7 meters, with the audience on all sides in order to emphasize the claustrophobic feeling.
We have chosen a modern or an out-of-time perspective for the production, even if the play takes place in historic times. We also chose to let the production as varied as possible through mixed acting styles and degrees of realism in the characters. The greater part of the performance were played as forth-wall-theatre (even though we had the audience sitting at all four sides of the stage), except for one character – Orm – who had full freedom to contact the audience at all times in the show.
The music and the sound effects, that is for the greater part written by the group, is played on marimba and electric guitar.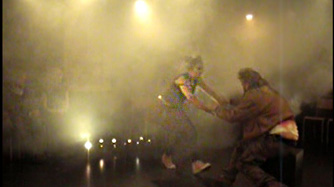 The intensity of the claustrophobic room and the smoke that finally embedded everything and everybody in the room, at the same time as the actors were surrounded by the audience gave me a new possibility to research the use of the room.