by  Berthold Brecht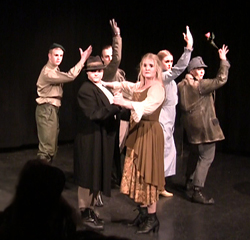 Svejk – Johanna Nyberg-Rydström
Baloun – Agnes Dahlén
Kopecka, Kati – Vivi Laakko
Prochazka, Anna – Stina Rundberg
Brettschnieder, The Individual – Anton Cöster
SS-man, Bullinger – Daniel Taylor
Music and music study – Affie Andersson
Directions and education – Micke Klingvall
Click here to see a VIDEOTRAILER of the show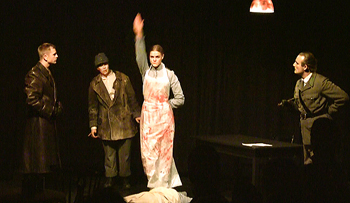 We opened the play in 4 december 2014, as the fall production for Kulturama's second year students in Physical Theatre that year. The performance played only three shows at Kulturama in Hammarby Sjöstad, Stockholm, but with much success.
Bethold Brecht never finished " Schweik in the Second World War" and it was first played after his death.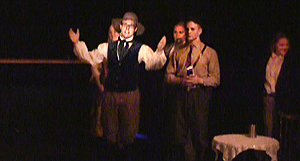 In our adaptation we have only used the first part of the play that mostly takes place in a tavern , where the dogcatcher Schweik first gets arrested but gets freed to steal a dog from the local Quisling and give to the SS-officer. He steals the dog, but – after getting caught as waif and sent forcibly to a volunteer railroad work – takes the dog to serve it to his friend Baloun. Just then SS and Gestapo comes in to the tavern, sees the meat and arrest Schweik.
Living in Sweden 2015, with growing a Nazi movement, a racist party in parliament and lynch mobs  out on the streets, we also felt that we had to bring in some of our own time. We did so by adding some meta theatre sections, taking in Jimmie Åkesson (the racist party leader), exemplify refugee structures and more.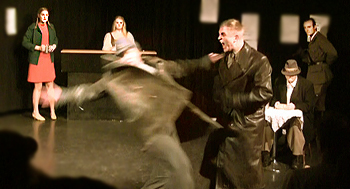 The play is funny, thrilling and violet all at the same time. It is played in an expressive acing style. The staging is as in the tavern, where the audience is sitting at tables and with a cabaret stage where some scenes take place.
See a few other of Micke's shows:
Gudomliga Ord (Divine words)
Gamla Testamentet The Old Testament)
Kattorna (The Cats)