1518          – The first description of an Italian acting company, playing in mask. But we cannot know if they were Commedia dell'Arte masks.
1545          – A contract between actors in a professional Italian company in, Maphios in Padua, Italy. This is also the event that most scholars define as the birth of Commedia dell'Arte.
1548          – Francesco Andreini was born.
1553          – Girolamo Rofia writes about a performance in Rome including a Zanni, who should have come from Bergamo.
1555          – Belley sees a performance in Rome including a Zanni and a Pantalone.
1558          – Anton Francesco Grazzini writes a duet for Pantalone and a choir of Zanni. To many this is the first "proof" of Commedia dell'Arte.
1559          – Lusca publicizes a poem dedicated to Pantalone and Zanni.
1562          – "Canto carnascialesco dei Zanni"  (Carnival songs for Zanni) Is publicized by Lasca.
1562          – Zan Ganassa plays before the duke of Mantua.
1562          – Isabella Andreini was born.
1564          (–Shakespeare was born)
1567          – There are references to a company led by Graziano Flaminia and Vinceza Armani in Mantua.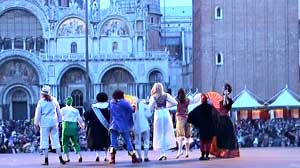 1568          – An amateur company, led by Orlando di Lasso plays in the Castle Trausnitz in Bavaria.
1568          – The first documented performance by the Gelosi Company, at the carnival in Milan.
1570          – Soldoni and his company play in Munich and Linz.
1570          – Zan Ganassa plays in Ferrara.
1570–80  – Paintings, probably from the Dutch School, depict Commedia dell'Arte masks, notably Pantalone and Zanni.
– Recueil Fossard's 54 engravings, probably from the 1570s, depicting scenes from improvised plays.
1571          – Commedia dell'Arte begins to tour in Europe. Gelosi plays in Paris before Charles IX and then before the king and queen at Nogent-le-Roi.
– Zan Ganassa also plays in Paris, where they becomes forbidden to play twice (the first time because the tickets were too expensive) until they get a letter of recommendation from Charles IV. They then probably play quite regularly there until 1574.
1572        – The frescoes in Trausnitz, Bavaria are dated from this year. They depict a Commedia dell'Arte performance and are painted in natural size.
– This year we also see the first illustration of an Arlecchino.
– Soldonis company play in Lyon for Charles IX.
– Zan Ganassa plays in England for the Earl of Lincon.
1574        – Zan Ganassa plays in Madrid and probably other towns in Spain.
– Gelosi plays at the carnival in Venice before the French king Henry III and in Vienna.
– First mention of the Confendenti. They play in Cremona, Pavia and Milan.
– The first written reference to Arlecchino written by Don Casiano Pellicer, when they have played in Madrid.
– An Italian group plays in England at Windsor and Reading.
1575          – A contract from Naples, from a company with a woman in the ensemble, led by Maria di Tommaso, where among other swear word were forbidden within the ensemble.
  – Zan Ganassa play in Sevilla.
1576          – The first time the Pedrolino Company is mentioned.- Gelosi play in Paris and Blois The parliament opposes them, but the king protects them.
1580          –Adriano Valerini leaves Gelosi and create the Uniti instead.
1581          – Desiosi (or the company of Diana) is mentioned for the first time in Pisa, by Montaigne in his Voyage en Italie.
1584          – Tristano Martielli plays with the Uniti
1585          – Palladios Teatro Olimpico, the first indoor theatre, was completed.
– Tommaso Garzoni describes street entertainers in La piazza universale.
1586           – Confidenti plays in Spain.
1587           – Zingana (with Vittoria Piissimi) and La Pazzia d´Isabella (with Isabella Andreini) play in Florence at the wedding of Ferdinand I and Christine of Lorraine.
1588          – Desiosi, plays without women in the ensemble, in the Vatican.
– Orazio Vecchi's madrigal opera L´Amfiparnaso is publicized with pictures of Commedia dell'Arte masks.
1594          – Pedrolino, Pier Maria Cecchini, and Arlecchino, Tristano Martinelli, performs together in the Uniti.- Tristano Martinelli leaves the Uniti since he no longer can work together with Pier Maria Cecchini.
1599          – (The Globe opens)
1600          – Adriano Banchieri opens his La Pazzia Senile, and by this Commedia dell'Arte starts its path in the Opera world.
1601           – Tristano Martinelli publisize his Compositions de Rhétorique, wish he presents before Henrik IV and Maria di Medici at their wedding. The publication contains rude transgressions in the court etiquette, among others he calls the Grand Duke of Florence "almost my brother", cardinal Gonzaga "the gossip cock of the scarlet crest" and the Duke of Mantua "most cousinly coz and out dearest gossip". It also contains very early pictures of Arlecchino.
– Giovanni Battista Andreini (the son off Isabella and Francecsos) creates the Fedeli.
– (Hamlet opens.)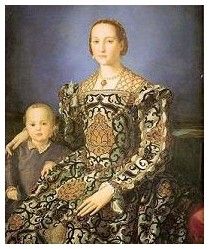 1604           – Isabella Andreini dies in Lyon on her way home to Italy, Francesco Andrini gives up theatre and the Gelosi is disbanded.
1607           – Francesco Andreini publicize Le Bravure del Capitano Spavento.
1608           – Hertigen of Mantua is founding his own star-studded company, from parts of Pier Maria Cecchini's Accesi and Giovan Battista Andreini's Fedeli, to play before the king and the queen of France.
1611      –  Flamino Scala publicize Il teatro delle Favole rappresentative.
1614       – Pier Maria Cecchini writes two essys on Commedia dell'Arte: Brevi discorsi intorno alla caommedia ai commedianti and Discorso sopra l´arte comica e il modo di den recitare.
1615          – Frittelinos company, led by Pier Maria Cecchini, travels to France and are portrayed by Jaque Callot in his Balli di Sfessania collection.
1615           – (Shakespeare dies)
1616           – (The thirty years war starts.)
1617           – Flaminio Scalas Il finito marito publiceras i Venedig. De två prologerna är viktiga för sin diskussion om skådespelare, skådespeleri och improvisation i Commedia dell'Arte.
1618          – Jaques Callot releases his Balli di Sfessania engravings.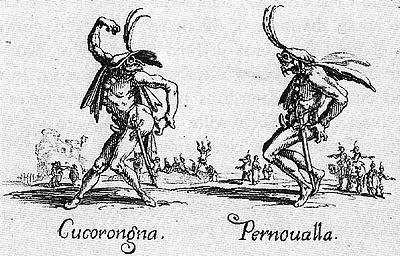 1624          – Francecso Andreini dies.
1627-28       – Fedeli tour in Prague and Vienna.
1634           – A Commedia dell'Arte company plays in Warszawa.
1634          – Niccolo Barbieri gives out La Suppica a powerful defense of Commedia dell'Arte.
11637-40   – By this time the Fedeli breaks with their patron, the Duke of Mantua, and became indipendent
1637          – The first opera house "San Cassiano" opens in Venice.
1639          – Tibero Fiorillo, plays in Paris this year with Giuseppe Bianchi's company.
– (Racine is born)
1653          – Fliorillo plays with the Company of Basilio Locatelli in Paris.
1658           – Comedie Italienne share the theatre "Petit Bourbon" with "Compagnie de Monsieur", Moliere' group.
1661- Domenico Biancolelli is called to Paris.
1680          – Hotel de Bourgogne is given to Theatre Italien.
1694            – Evaristo Gherardi publicize Le théâtre Italien, a collection of pieces played by Italian actors in Paris.
1696           – La vie de Scaramouche is publicized in Paris by Angelo Costantini.
1697          – Pope Innocent XII had Teatro di Tordinona in Rome destroyed.
– The Italian actors are thrown out of Paris after having ridiculed Mne de Maintenon, Ludvig XIV:s mistress, in the play La Fausse Prude.
1715          – Ludvig XIV dies and the Duke of Orleans calls back the Italian actors to Paris.
1716-20   – Marivaux writes his plays for the new Théâtre Italien.
1728       – Luigi Riccoboni publicized Histoire du Théâtre Italien.
1739          – Carlo Goldoni becomes playwright for Medebach's company.
1742          – Antonio Sacchi forms his own Commedia dell'Arte company.
1743           – Goldoni writes the first scenario version of Arlecchino – Servitore di due Padroni.
1756          – (Mozart is born)
1760          – Carlo Gozzi tries to revive improvised Commedia dell'Arte in mask.
1762          – Goldoni leaves Venice to work with Comedie Italienne in Paris. A move that many consider the death of Commedia dell'Arte.