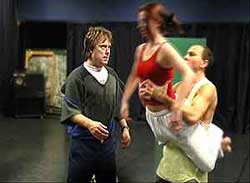 Most of my teaching was done at the Theatrestudio up until it was is put to sleep in waiting for another organizational mode in 2007. Now I work a little more than halftime at Kulturama where I am responsible for the Physical Theatre Program and teach physical theatre and with the first years students.
I have been working at the Theatrestudio since 1988 as teacher, since 1993 I have been working fulltime and since 1996 I am its artistic director.
The Theatrestudio was established in 1967 by Inge Waern, as the only education in physical theatre in Sweden. Click to read more about what the THEATRESTUDIO.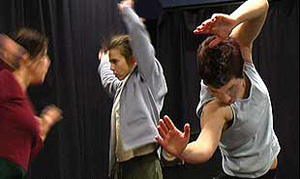 I also hold workshops, courses, lectures and lead seminars outside the Theatrestudio. They are mostly about Commedia dell'Arte, stage acrobatics, physical theatre training or mask making.
If you want to know more about any specific workshops go to WORKSHOPS.
Below is a list over most of the workshops and seminars that have done. It is a mixture of anything from half day seminars to weeklong workshops and continuous courses:
2019
2018
2017
2016
2015
2014
2013
2012
2011
2010
2009
2008
2007
2006
2005
2004
2003
2002
2001
2000
1999
1998
1997
1996