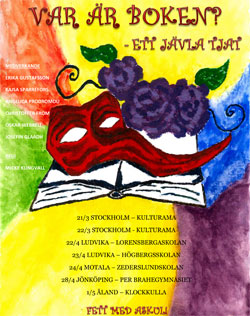 Text and directing – Micke Klingvall
Brighella – Erika Gustafsson
Doralice – Angelica Prodromou
Dottore – Josefin Glaadh
Flavio – Oskar Webrell
Pantalone – Christoffer From
Signora – Kajsa Sparrefors
Var är boken? was the final show for the physical theatre class of 2014 at Kulturama in Stockholm. It opened at Kulturama in Stockholm 21/3-2014. Later in April and May it toured in Åland (the islands in between Sweden and Finland) and the south and middle of Sweden.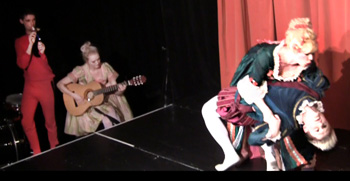 The show is a classic Commedia dell'Arte, with lots of music, rhythm, dance and acrobatics.  We focused much on not just tearing down the forth wall, but communicating all the time straight to the audience in order not making them spectators but participators invited to the feast of Commedia dell'Arte.
The lovers are trying getting each other, Dottore is looking for his medical book, Brighella is avoiding work, and Pantalone and Signora are trying to seducing the lovers, until the final party…