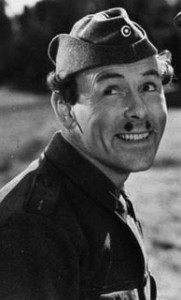 Talking about Vulgar Comedy I would like take the opportunity to introduce Nils Poppe, in my view, the best comical actor Sweden ever had. And not only that He is a great dramatic actor, director, writer, dancer, acrobat, theatre manager and more…
His story is could be a one of Hollywood's stories. He was born 1908 in the south of Sweden. There he was left to an "angel maker" (someone who supposed to take care of children to parents who could not afford to do it themselves, but most often the kids died) to die. But fortunately he was saved by his goodhearted but poor foster parents.
Already in theatre school he found his comical, dance and acrobatic talents. And early in his career he became a well-known actor on Swedish stages and in films.
Nils Poppe is first and most a physical comedian in the genre of Vulgar Comedy. He was very often compared with Charlie Chaplin and his appearance and expression had many similarities with a fancy
for playing pedants. His most famous roles was as Fabian Bom a pedant soldier in the tradition of Jaroslav Hašek's "The Good Soldier Sveijk" and Sten Stensson Stéen a pedant student.
But he was also a great dancer and could as well be compared with Fred Astaire, a great director and writer making his own films, or later in his life as theatrical manager in his own theatre.
He was not only a comical actor he also played the part of the juggler in Ingmar Bergman's "The Seventh Seal" and as the vicar in "The Devil's Eye".