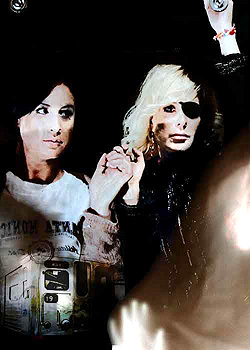 Johan – Jonas Bane
Cecilia – Zandra Hällström
Karin – Helena Karlsson
Cid – Jonas Larsson/Micke Klingvall
Director – Jonas Larsson
Text – Minerva productions
Sound design – Mats Lundgren
Light design – Pär Liljekvist
Sound and light technicians – Caroline Eriksson/Maja Turesson
Film clips – Hans Montelius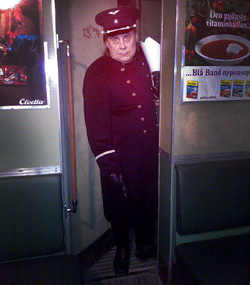 The play first opened in 15 april and played the spring of 2012 for sold out houses. It was later reopened in 6 January 2013 and continued to play that spring at SPÅRVÄGSMUSEET (Stockholm Transport Museum) in Stockholm.
Silverpilen was a horror play. It was played inside an actual subways train from the sixties, in the museum, with the old advertising posters still up. The audience where sitting very close to the actors. The costumes were real uniforms from the beginning of the twentieth century that we borrowed from the museum.
Except from the very intense acting style the show was built on light and sounds and film clips.
Silverpileen is made from two living urban myths in Stockholm.
In 1968 there was a subway train with eight cars built in aluminum. It never became painted. Since aluminum was too expensive to build in there was only one train. The gear assemblies' high ratio and the howling sound of the converter that made it sound scary.
Soon there started to spread ghost stories about the unpainted subways train that now was called the Siverpile in popular myth. Onboard the Silverpile time and space was indisposed. The rumor said that it was a ghost train and that everyone onboard was dead. At night the Silverpile traveled underground to pick up the nightly travelers. Stories told about people who had entered the Silverpile to never be seen again. Those who had entered the train were doomed to ride it forever among the dead. It was only those who were dead who could get off the train – at Kymlinge…
The second myth is about Kymlinge station, a subway station that never been ready-built. It is seen from the trains that passes it, but there are no exits or entrances and it is not shown on any map. It was meant to be a city district over it but that never got built either.
Another of the myths about Kymlinge station says that on All Saints' Day one can see phantoms at the station. It is supposed to be the ghosts of people who had committed suicide in the subway.