Opened 5/3-1999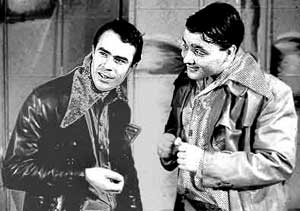 Playwrights – Micke Klingvall and the ensemble
Director – Micke Klingvall
Harry – Elias Wåhlund
Harry – Dov Weinstein
Music – Dov Weinstein and Pjotr Tjajkovskij
Music arr. – Carola Alfredsson and Andreas Hedberg
Musical study – Inger Lindholm
Puppets – Carina Söe-Knutsen
Choreography in the death scene – Michael Mansson
Choreography in the Princess scene – Susanna Stjernfeldt
Set and prop design – Carina Söe-Knutsen
Costume – Gaysha – Miki Nagata and Niklas Jensen
Graphic design – Micke Jakobsson
Photographer – John Hansson
Production – Olav Karlsson
Theatre – Salong Katakomb
"Snow White for Suckers" was about the two swindlers Harry and Harry, who came up with the perfect cheat. They should trick the audience to come and see a production of Snow White that does not exist, and then they plan to run away with the money. But on their way to run away with the money, they walk through the wrong door and end up on the stage in front of the expectant audience. Harry and Harry become forced to play Snow White as well as they can.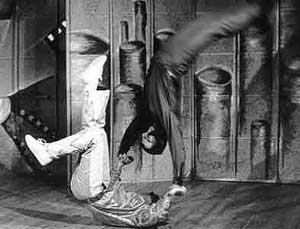 Or as Harry thought about the performance in an review that he wrote himself:
Provoking hollowness makes Snow White for Suckers one of this milleniumsmost challenging performances
Snow White for Suckers really makes use of Peter Brook's expression "the empty space" in its full meaning, with its elevated, almost sublime, hollowness. The expressionless characters are almost not seen, which show's the dishonesty of life.
The play debates – together with Lars Norén and others in Sweden– what is theatre and what is real life. The audience is challenged to use its inner eye to fill the stage with it's own visions and illusions. And the piece rise questions like: "What is art?" "Do we really see each other?" and "Where do we go from here?"
Snow White for Suckers is totally free from bad acting, long and boring monologues about people who can't communicate or pseudo-intellectual political manifestations.
And I left the theatre with one big question in my head: What is the prize of it all.
H.H.
"Snow White for Suckers" was Kompani Komedi's forth production, and the performance was played entirely in the spirit of Kompani Komedi. "Snow White for Suckers" made an exception to the rule in the way that it is not a pure Commedia dell´Arte-performance. But still Commedia dell´Arte was the source for our inspiration. With this performance we removed the masks, moved in time and worked with a fairytale, instead of a scenario.
"Snow White for Suckers" was a part in the search for our role in modern western comedy, based on Commedia dell´Arte.
We were also continuing – in the spirit of Kompani Komedi – to work from our love of crazy pranks and burlesque humor in our expressive style of playing, with lots of acrobatics and other theatrical disciplines. This time we not only worked with acrobatics and music, but we also worked with dance and puppetry in the show.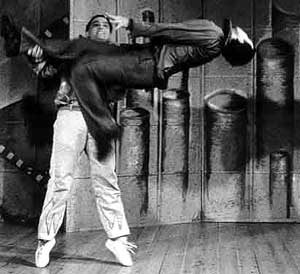 In "Snow White for Suckers" Kompani Komedi welcomed the American actor Dov Weinstein, a guest artist in Kompani Komedi. He and Elias Wåhlund met at Antonio Fava's Commedia dell´Arte-workshop in Reggio Emilia, and later they went to Accademia del Circo in Italy together. It was also there the ideas for "Snow White for Suckers" first took form through lots of telephone calls to me who were working a script at home in Sweden.