Micke Klingvall – Coordinator/director
Anna Svensson – Actress
Mikke Schirén – Actor
Micaela Gustavsson – Actress
Majken Lindqvist – Actress
Elin Karlsson – Actress
Carolina Jareñjo – Actress
Johanna Hövenmark – Actress
Fredrik Schirén – Actor
Niklas Sternberg – Actor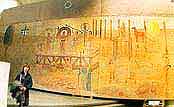 This was a project in which Kompani Komedi participated as a part of another project.
The project was about donating a painting to the National Gallery in Sweden that would replace "Midvinterblot" (Midwinter sacrificial feast) by Carl Larsson. The painting, which is not nearly as warlike as "Midvinterblot", is instead inspired by a midsummer night and depicts a wedding in the Scandinavian Bronze Age – the times of the Vanes.
The painting was to be presented in a ceremony, with music, body painting, and a performance dealing with our history of gods, from the first goddess through the gods of Valhalla and Christianity, up to today's situation, where we are on our way back to that first goddess.
Kompani Komedi was supposed to be a part of the performance on the stage, working with acrobatics and the fighting scenes in the show.
The ceremony was intended to take place outside the National Gallery, 18/6-98 at
19.00.
---
So what happened?
June 18, 1998 was a very rainy day. It was not possible to play outdoors at all, not for us, not for the musicians and definitely not for the audience.
Instead the audience was transported in an old English double-decker to the Polar Studio, (the ABBA-studio) where the show went on in the main studio. A selected audience was standing in the control room, and the show with musicians, singers, actors and storytellers was played in different sections of the studio.
It all ended with a big party at Art Node on Skeppsholmen in Stockholm for the audience and the participants.