The Dalton Brothers robes a train
Opening 21/5-2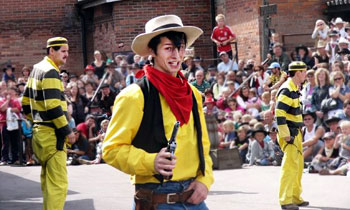 Scripts & Directions Micke Klingvall
Lucky Luke – Daniel Lindman
Averell Dalton – Steve Svennson
Jack Dalton – Harry Friedlender
William Dalton – Leif Sandqvist
Joe Dalton – Torbjörn Amilon
Mother Dalton – Cora Watson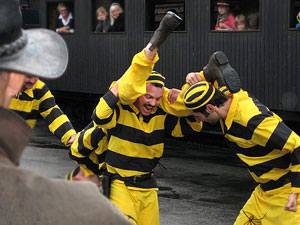 The Dalton Brothers robes a train is the Dalton Brothers show of 2009 at High Chaparral in Småland, Sweden. It is a comic family show in western environment, built on a lot of ideas from the Lucky Luke comic albums.
The Dalton Brothers robes a train is really two shows. In the first show, that was played under the low session, it is Lucky Luke and the Dalton Brothers who are playing and at high session Mother Dalton also was in the show.
The plot is very simple. The Dalton Brothers have just escaped from prison, Averell has by mistake brought along four guns and with those guns they hold up and rob a train. By then Lucky Luke shows up, draws his gun faster then lightning and after a short hunt catches them ant take them along to prison on the train.
The other show is more complicated since Mother Dalton comes with the train and interfere with the plot.
The Dalton Brothers robes a train, is based on physical expressions, where rhythm, tempo and direct contact with the audience are essential. The comedy in the show are built on character and situations. It drives up til a frenzy and lets the kids participate in it, without being a show just for kids.
Even though the Wild West environment at High Chaparral doesn't call for more scenography I must say it was very fun to have a real, live steam train to work with. The train came in during the show, was held up and left with the Dalton brothers and Lucky Luke in the end.
It was also great fun with an audience all dressed up in western costumes. They also became a part of the show themself.
The Dalton Brothers robes a train was a total show. The actor also continued improvising in character out in the audience after the show itself.