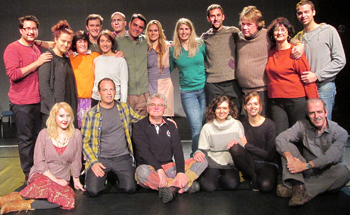 This EUROPEAN POLYTHEATRE PROJECT is about workshops. We are five theatre groups from different places In Europe (Machina Drama Group from Greece, MTM mimoteatromovimento from Italy, Transversal Theatre from Netherlands, Kompani Komedi from Sweden and Les Amis de la Salle paroissiale Sainte-Anne from Belgium) giving workshops to each other. The workshops are supposed to have some kind of presentation as a goal for the work.
The project is not an art project. It is really about education and it is supported by EU through its Lifelong Learning Program.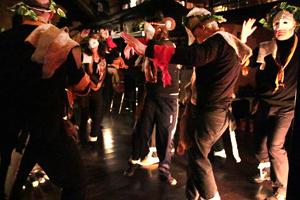 I tour plan looks like this:
The Greeks led a workshop about ancient Greek theatre in Rome 15 – 19/12-2012, hosted by the Italians.
It focused on the choir in the Greek drama, following a story about a departure at the same time following the ancient Greek history from Homer and Aeschylus to Euripides and Aristophanes.
The Italians led a workshop about Commedia dell'Arte in Amsterdam 16 – 20/5-2013, hosted by the Netherlands.
The workshop was very much about specific scenes and about mask/character work. It was built to a performance in collage style.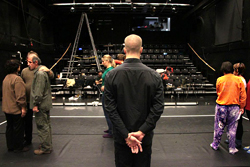 The Netherlands directed a play, Railroad, about the Second World War in Växjö 26 – 29/11-2013, Sweden, hosted by the Swedes.
Here the focus was more on the presentation so the workshop was very much part of the rehearsals for the play. The play was an intricate plot about a Jewish and a German family one going to America and the other being killed by suffocating in the train wagon.
The Swedes will lead a workshop about Vulgar Comedy in Dinant 13 – 16/4-2014, hosted by the Belgians.
It will be about Bellman, the Swedish very popular eighteenth century poet and his word or early sex, drugs and rock n' roll, music and physical theatre.
The Belgians will lead a workshop in Thessaloniki 1 – 4/7-2014, hosted by the Greeks.
This workshop we don't know very much about yet. I will update it when I know better.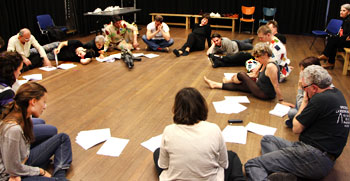 All of the workshops have some connection to migration wish is the theme for the project.