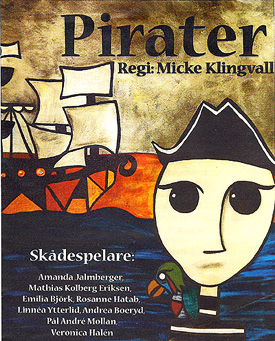 Directing & Text – Micke Klingvall
Linnea Ytterlid – The Captain
Mattias Kolberg Eriksen – Esmeralda
Andrea Boeryd – Rollo
Pål Mollan – Ragnhild Rut
Emilia Millan Björk – Klimpen
Rosanne Hatab – Olle
Amanda Jalmberger – William Havskrabba
Veronica Halén – Bobo
Musical study – Affie Andersson
Scenography – Cisse Jacobsson
Music – Emilia Millan Björk
Graphic design – Amanda Jalmberger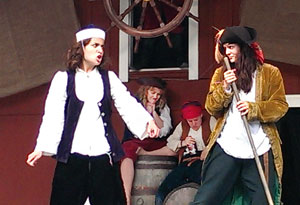 Pirater opened 1:st of May at Fjäderholmsteatern, situated on a small island outside Stockholm. And it played six days a week for three weeks, as the main attraction at Fjäderholmsfestivalen (the festival of Fjäderholmarna). It was also the second of two final shows of the students of for Kulturama's second year in Physical theatre. See their first show GUDOMLIGA ORD. It is also the first performance for the group: TEATER 7 that was founded by this show.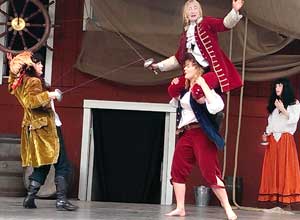 The performance starts just as pirates invade the ship "Friheten" (Freedom). I the midst of the battle the Captain of the pirates, William Havskrabba, by chance meet his first love, Ragnhild Rut. Off course she is now the wife of the greedy Captain of the ship, Kapten Kapten. The pirates loose the battle and William become prisoner. But believe it or not… after a few fights, embroilments and discoveries it all came to a happy end.
Even thou we first had based it on a very serious, political and bloody play (Lasse i Gatan by Lars Forsell), in the end it was not much left of it at all.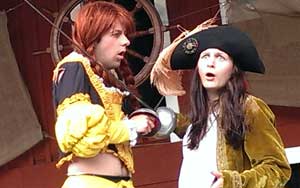 Pirater was a family show. It was played outdoors and it was filled with fencing, acrobatics, music and good spirit instead. The expression was big and the tempo was fast. The direct contact with the audience was essential.
The two female roles were played by men and vice-versa.